On Thursday, February 21st, Otter Products closed its doors to open their hearts to Harmony House. They did so in parternership with the OtterCares Foundation, the charitable arm of Otter Products. Established in 2010, OtterCares believes that one young and inspired mind can change the world. They are champions of innovative education that inspires youth to become entreprreneurs and philanthropists who create lasting and impactful change in their communities.

Ottercares also acts as a conduit for employee volunteering. Since 2010, all Otter Products employees have received 24 hours of volunteer time off per year to make a difference for local non-profits. This is the second year in a row that OtterCares has chosen CASA of Larimer County and the Harmony House as their non-profit. In addition to moving a lot of  very, very heavy furniture to accomodate office space for our growing staff, the group worked with a number of children served by the CASA program on a variety of arts and crafts projects, making windsocks, pinwheels and string art creations.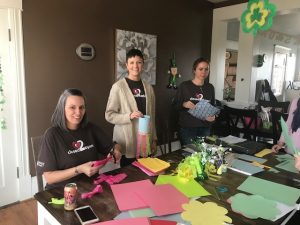 It was a fantastic day for both the children and the adults. Thank you, OtterCares. We hope you'll come back again next year! Click on the OtterCares logo to learn more about how they are making a difference in our community!