---
Our Best-Interest Advocacy Model
CASA volunteers are appointed by judges to advocate for children's best interests. They stay with each case until it is closed and the child is in a safe, permanent home. We serve children from birth through age 18 until they age out of foster care by becoming an adult.
Volunteers work with legal and child welfare professionals, educators and service providers to ensure that judges have all the information they need to make the most well-informed decisions for each child.
Our best-interest advocacy is driven by the guiding principle that children grow and develop best with their family of origin, if that can be safely achieved. Most of the children we work with are in foster care, but some are with their family of origin. And, most children who leave foster care do so to return to their family.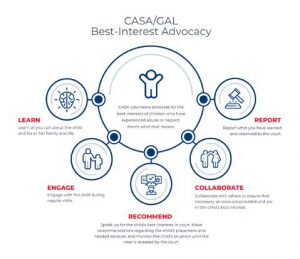 CASA Volunteer Requirements
Right now there is a child in your community who needs your help! You can be the difference, become a CASA volunteer! No special background or education is required to become a CASA volunteer. We encourage people from all cultures and professions, and of all ethnic and educational backgrounds.
CASA volunteers must be at least 21 years old and pass a background check. Once you apply, interview, and are accepted into the program, you will receive all necessary training in courtroom procedures, social services, the juvenile justice system and the special needs of abused and neglected children. This 30-40 hour training is required before being assigned a case
---
Are You Interested In Becoming A CASA Volunteer?
If you or someone you know would like more information on becoming a CASA volunteer and advocating for a child,  the first step is to sign up for a CLC 101 session by clicking the date below. These are 30-minute informational sessions where we talk about all that we do at CASA of Larimer County, and ways for you to get involved.
CLC 101 Sessions
Monday, July 19th, at 11:30 am
Thursday. July 29th, at 5:30 pm
Wednesday, August 4th at 5:30 pm
Wednesday, August 11th at 5:30 pm
Tuesday, August 17th at 5:30 pm
If you are unable to attend any of these dates or have any questions or concerns, please reach out to Jessica Van Roekel at: jessica@casalarimer.com
---
2021 CASA Online Flex-training Schedule:
Trainings are by Zoom or at Realities for Children.  Staff will confirm schedules/locations with trainees prior to the start of each training.
January/February 2021  –  Swearing In mid-February
1/20 (Wed) 5:30-9:00 p.m., 1/25 (Mon) 5:30-9:00, 1/27 (Wed) 5:30-9:00, 2/1 (Mon) 5:00-9:00
March/April 2021  –  Swearing In mid-April
3/24 (Wed) 5:30-9:00,  3/29 (Mon) 5:30-9:00,  3/31 (Wed) 5:30-9:00,  4/7 (Wed) 5:30-9:00, 4/12(Mon) (Court Night)
May 2021   –  Swearing In late May
5/8 (Sat) 8:30 a.m.-noon, 5/11 (Tue) 5:30-9:00, 5/15 (Sat) 8:30 a.m.-noon, 5/18 (Tue) 5:30-9:00
July 2021  –  Swearing In beginning of August
7/14 (Mon) 5:30- 9:00, 7/19 (Wed) 5:30-9:00, 7/26 (Mon) 5:30-9:00 7/28 (Wed) 5:30-9:00
September 2021 – Swearing in mid-October
9/13 (Mon) 5:30-9:00, 9/20 (Mon) 5:30-9:00, 9/22 (Wed) 5:30-9:00, 9/27 (Mon) 5:30-9:00
November 2021 – Swearing in late November
11/1 (Mon) 5:30-9:00, 11/6 (Sat) 8:30 a.m.-noon, 11/10 (Wed) 5:30-9:00,  11/13 (Sat) 8:30 a.m.-noon
---