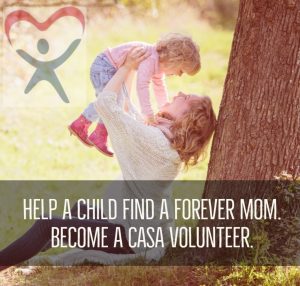 She can have a brighter future. Lacey was just one-year-old when she was removed from her parents due to domestic violence and substance abuse. Lacey's father was incarcerated and her mother, Becky, struggled with sobriety and homelessness.
Eva, a CASA volunteer, was assigned to Lacey's case just eight days after the petition was filed. During this time, Eva set up a developmental evaluation for Lacey and attended the evaluation with the grandmother to help her understand the process and recommendations. Lacey was found to be developmentally delayed in speech, fine motor and gross motor skills. Eva supported grandma in setting up services that were recommended for Lacey and helped Becky find resources for housing and employment. Becky successfully completed her treatment plan and moved in with grandma and started being the primary caregiver for Lacey.
The case closed with joint permanent custody to Becky and the grandma. At one of last hearings the grandma said in court, "Huge thank you to all, I cannot believe so many people came out for one little girl. Especially to our CASA because she volunteered to do this, and she never missed time with Lacey or forgot her."
In honor of a special mother in your life, you can give children like Lacey the gift of a CASA volunteer. Because of you and a CASA volunteer, children like Lacey can have a mother to love and care for them.